Galaxy RV Locations on Vancouver Island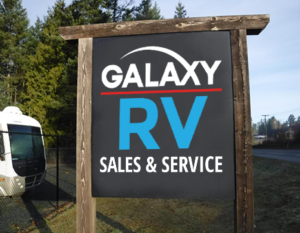 Galaxy RV has 2 locations in Duncan, a new location in West Shore serving Victoria, and there is also a Galaxy RV Dealer in Courtenay! We are located all over the island and each location has experienced RV service to offer – whether you want to shop our great selection of new, used, and consignment RVs in stock for sale, or bring your trailer, 5th wheel, or motorhome in for service and parts.
3 RV Dealerships to Choose From
The island is growing fast and we're excited to offer the growing number of Vancouver Island RV enthusiasts a wide selection of RVs at great prices locally. So far we've got 3 RV dealerships to choose from:

Galaxy RV in Victoria/Westshore
We have over 80 RVs on the lot in Victoria on the Westshore Parkway! Our Victoria BC location also has a full-time RV sales rep onsite to help customers with any RV specific inquiries!

Galaxy RV Victoria Location
4377 Westshore Parkway
Victoria, BC V9B 5Z1
Galaxy RV Victoria is part of a section of the Westshore Parkway that is currently under development but we're well equipped to give local RV shoppers great deals!

Galaxy RV in Courtenay
RV shoppers in the Comox Valley/Courtenay region can now come shop locally for RVs at our Courtenay location on the old Comox Valley Hyundai lot!

Galaxy RV Courtenay Location
#101 - 270 Old Island Hwy
Courtenay, BC V9N 3P1
Are you an active member of the military? Just bring in your Canadian Military ID with you and make sure to let your salesperson know you'd like to take advantage of our $750 employee discount promotion on our entire inventory of recreational vehicles.

Galaxy RV Duncan Locations
We have 2 locations in Duncan for dedicated RV Sales and Service! Our new RV Sales location is closer to the city, just south of the old location where we now just deal with repairs.

Galaxy RV Sales Duncan
We've got a full lot of new, used, and consignment RVs for sale in Duncan!
Unit D – 6482 Norcross Road
Duncan, BC V9L 5T3

Galaxy RV Sales in Duncan(beside OK Tire) is just south of our service location and it is home for all of our new, used, and consignment RVs for sale in Duncan!.

Galaxy RV Service Duncan
Our dedicated RV service shop is capable of tackling both RV parts & RV service, plus we also offer mobile RV service in Duncan!

6854 Trans Canada Highway
Duncan, BC V9L 6A2
Galaxy RV Service in Duncan is just north of Highway 18 (Cowichan Lake turn) on TCH BC-1, with a large entrance that's easily accessible via the southbound lane.