RV De-winterize / Spring Prep
RV De-winterize / Spring Prep
Posted on March 24, 2021
Get Your RV Ready
Are you and your RV ready for a brand new camping season this year? Was your RV stored properly over the winter? Will it be easy to get your RV ready, or do you have some work to do before you can hit the road?




Like the Galaxy RV Facebook page!

Spring RV Adventures are waiting, but is your RV ready? These are the first few questions you should ask before you get ready to take your RV out of storage (or the driveway).

What's Your RV Going to Need?
First off, depending where you live, how you store your RV, and how cold your area got, there could be more/less steps for your personal de-winterize.

Various RV models have various needs, and every RV can be affected differently over the winter. Take time to consider if you've winterized your RV correctly, because if not, you might have some freeze up in your RV.

Was your RV Winterized with Non-Toxic Antifreeze?
If you had your RV professionally winterized at any RV service location, and they used non-toxic RV antifreeze throughout the entire RV, you should be okay, and safe for a fresh season with little to zero problems.


RV Antifreeze comes in many formats! This article explains how to properly remove your antifreeze and prepare your RV for Spring adventures!

Some people request not to use non-toxic antifreeze in their RV because they either like to winter camp or don't like the 'froth' that non-toxic antifreeze can leave (*which is honestly usually because of incorrect de-winterization).

Was your Winterizing done with Compressed Air?
Instead of antifreeze the RV water lines would of been blown out using air.

This method is okay but doesn't guarantee all the water will be removed from the system. Low areas in the water lines, plumbed appliances (dishwasher, ice maker, etc..), and faucets, can still freeze up because there is still a little bit of water left behind that the air didn't blow out.

Check the Water Heater
Was the water heater drained and by-passed correctly? This can be the large expense of not winterizing properly and all it requires is a careful read of the owners manual for your RV or water heater.

If the water heater froze up because it is still full of water it might of split the tank. Now you have a real problem, this goes for any of the holding tanks also, for example the fresh tank.

First Steps to De-Winterize your RV
Now that you know your RV was winterized properly, you can now think about de-winterizing your RV.

Get the RV cover off
If you were parked outside, you likely have an exterior cover (if not, we will talk about that issue next winter), and will want to start by removing the cover. Smaller covers can be pretty easy, but you'll want to start at the bottom, detach everything on the sides, and then get on top of the RV to carefully remove the cover.


RV covers are really nice for storing your RV between seasons. Nobody wants to look at black scuffs and faded/peeled decals!

Make sure to take your time while removing the RV cover to avoid getting caught on anything. A great tip for cover storage is to purchase a wheeled tote/garbage bin, since these have good capacity and make storing/removal a breeze.

Fill your tanks
Start by putting the fresh water tank drain plug back in or make sure you turn the drain valve closed. If you can't find your drain plug, and you've checked the entire bottom side of the tank, feel free to give us a shout, our service team has seen a lot of different models over the years!

With the fresh water holding plugged, it's time to fill it up. If you are worried about sanitizing the fresh water tank first, there are many products and tips out there to do so, but usually your RV is okay as-is.

Starting the Water Pump
Next, we need to make sure the water pump is not by-passed and in winterize mode. Usually this is as simple as just turning a valve or hooking back up the suction line on the water pump inlet side.


This RV water pump has a temporary suction line on the inlet.

Make sure all the low point drains under the RV are closed. You can now turn on your water pump and start to run fresh water throughout the RV by opening each faucet one at a time.

Flushing the pipes
Start at whatever faucet is farthest away from the pump and start turning them on one at a time. This will force the most amount of antifreeze out right away.

Go from faucet to faucet including all inside and don't forget exterior taps. Once you are happy with how clear the water is running out of each tap you can now turn the pump off.

Filling the Water Heater
Go to the outside access for the water heater. You will have to correctly thread either the anode rod, or plug (carefully), depending on what water heater you have (make sure not to cross thread).


This gas powered RV hot water heater has been drained. Now it's ready to be plugged and filled.

Now would be a great time to put in a new anode rod if it the old rod has built up some corrosion.

Keep in mind that correctly functioning anode rods will prolong the life of your water heater and help save your hot water heater from needing to be entirely removed and replaced due to rust/leaks.

Now you will need to go behind the back of the water heater inside the RV. Usually there will be an access panel or drawer you will need to remove in order to get at the water heater bypass valve(s). Usually there will be 3 valves you will have to turn some only have 1 valve.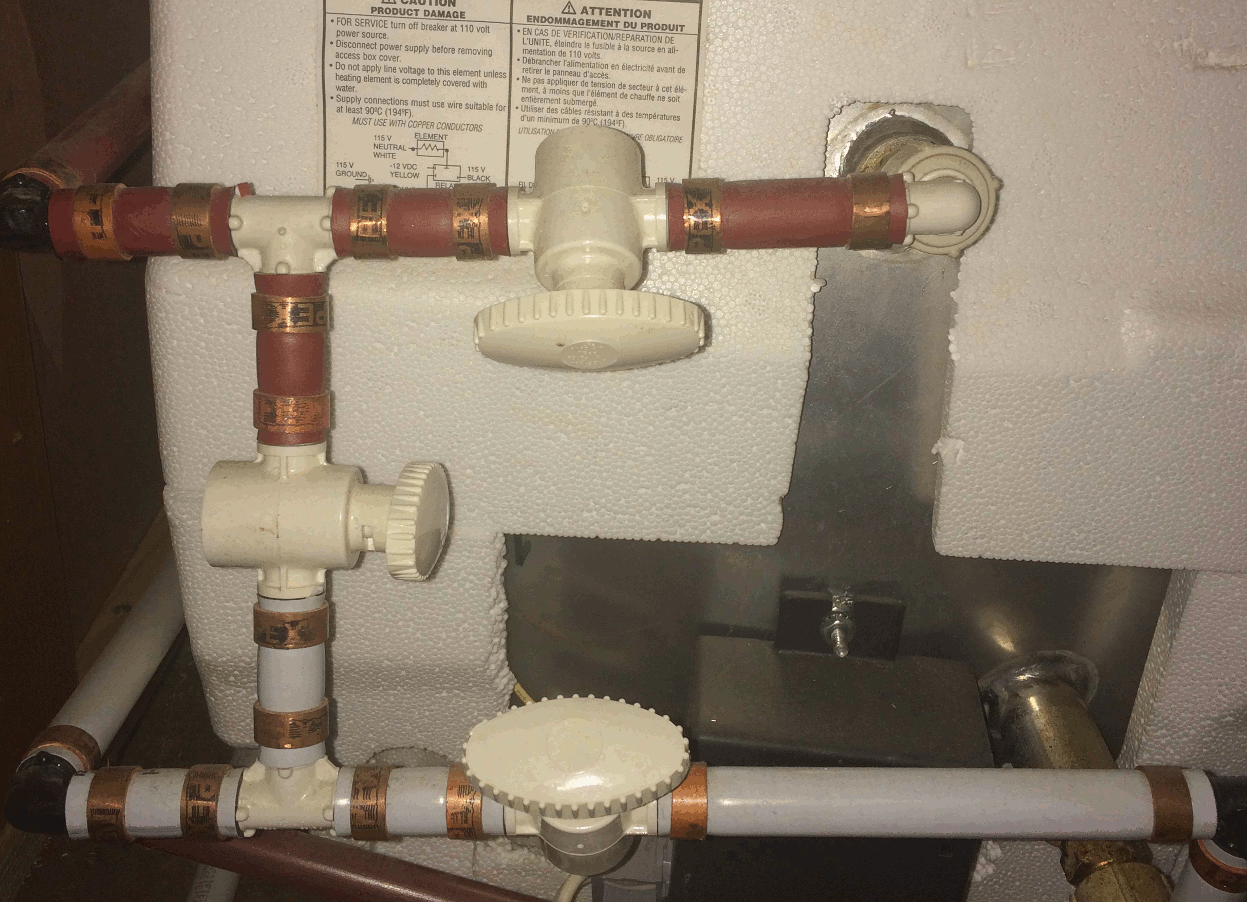 Example of switching the water heater to winterize mode. Some RVs have sophisticated plumbing and valves that may require assistance if they aren't well labeled.

Once you have the hot water tank valves sorted out, turn the water pump back on to fill up the water heater. Most water heaters are space efficient 6 gallon tanks, so it won't take that long to fill.

Get the air out
When you first turn on the pump, you'll also want to open up one of the hot taps on a faucet. This will open up the hot water line and force air out of the water heater tank and out of the faucet.

At the beginning only small spurts of water and air will be coming out of the tap. Once a full steady stream of water, with no air, is running out you can now close the tap. Give the RV water system time to come up to pressure, usually until the pump stops running.

If the water pump continues to run, or turns on and off repeatedly, this is a hint that you could have a leak. There's some great ways to sort out leaks, but that's a whole new topic, and we're happy to help if you need assistance.

Wrapping Up
At this point, we've got the tanks, pumps, and most of the lines sorted out. The only left over amount of antifreeze will usually be a small section of line at the city water hook up.


You might find a small amount of RV Antifreeze is still in the city water hookup line.

The first time you hook up city water it will force a small amount of antifreeze out of the tap that will be gone in few seconds. This leftover amount is nothing to worry about if you used the right non-toxic antifreeze.

Many customers, and RV technicians will winterize and de-winterize their RV's differently, so don't take these tips as a must do if your setup is different.

Don't forget the roof!
Before using your RV, it's a great idea to wash and treat the rubber roof. There are products on the market that will help clean the roof safely without wear on the protective surfaces. Some people get by with their own soap and water solutions, which is an option if you know for sure that you've picked safe products.

Once the roof is clean and dry you can then treat your rubber roof with a UV protectant. Especially on Vancouver Island, where we get a lot of rain, a leak free RV roof is essential.

Road Ready
We're almost done, but before we hit the road it's also a great idea to wash the rest of the RV. Once it is clean and dry you can apply RV/marine wax to help protect the finish, paint and decals of UV and other contaminants.

To be honest, there's a LOT to be said for doing the wax/detail just before you winterize and store your RV. This saves time later and it feels great seeing your RV in tip-top shape at the start of the season.

Galaxy RV Can Help!
If you would like your RV to have a more extensive checkover before the new season, Galaxy RV has a special Spring Check/Season tune-up service package for just $439.95!

The Galaxy RV Spring Check-Up service package includes:

Flushing/de-winterize
Check/Tune up the appliances
Check/Advise on the propane system
Check/Report all leaks
and much more!

Get RV Service

Galaxy RV's Spring Check-Up service package will help ensure that you RV is ready for a fresh new camping season. Feel free to give us a call or use our online RV service booking form to secure an appointment.
Contact Galaxy RV
If you have any questions, our knowledgeable staff will be happy to give advice on the correct service for your RV.